Mouse anti-human IgG monoclonal
Catalog number:E-ELC-003
Host: Mouse
Specificity: Human
Application: Lateral Flow (Rapid Test)
Purity: > 95%
Concentration:

3.98mg/mL ( Might be different among batches, refer to the manual for delivered product.)

Host:

Mouse

Specificity:

Specific to human IgG heavy chain

Application:

Lateral Flow (Rapid Test)

Other applications should be validated by the end users

Formulation:

Liquid

Purified Method:

Protein A purified

Purity:

> 95 %

Cross Reactivity:

This antibody has been validated to not bind with human IgA or IgM

Storage Buffer:

0.02M PBS, pH 7.4, with 0.02% sodium azide

Storage:

Store at -20℃. Avoid repeated freeze-thaw cycles.
Show all (0)
Reviews (0)
Q&A (0)
Show All Show Less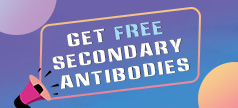 Contact
Contact us
Distributors
Apply for Free Shipping 24T ELISA Kit
My Cart
Product Name
Size & Qty
Price