×
SARS-CoV-2 Neutralization Antibody ELISA Kit
Cat.No.:E-EL-E606

Reactivity: Human
Assay Type: One step Competitive-ELISA
Assay time: 1.5h
Properties
| | |
| --- | --- |
| Format | 24T, 96T, 96T*5, 96T*10 |
| Assay time | 1.5h |
| Sample type | serum and plasma |
| Sample volume | 50 μL |
| Storage | 2-8℃ |
| Interpretation | Qualitative |
| Application | This ELISA kit applies to the in vitro Qualitative determination of SARS-CoV-2 Neutralization Antibody in serum or plasma. |
| Reproducibility | Both intra-CV and inter-CV are < 15% |
| Synonyms | COVID 19 Neutralization Antibody, Anti-RBD, RBD Antibody, S1RBD Antibody |
Test Principle
This ELISA kit uses Competitive-ELISA as the method to qualitatively detect the Anti-SARS-CoV-2 Neutralization Antibody in the sample. _x000D_ The micro ELISA plate provided in this kit is pre-coated with recombinant human ACE2. During the reaction, the SARS-CoV-2 Neutralization Antibody in the pretreated samples or controls competes with a fixed amount of human ACE2 on the solid phase supporter for sites on the Horseradish peroxidase (HRP) conjugated recombinant SARS-CoV-2 RBD fragment (HRP-RBD). After 37℃ incubation, the unbound HRP-RBD as well as any HRP-RBD bound to non-Neutralization antibody will be captured on the plate and eventually form the ACE2-RBD-HRP complex, while the circulating neutralization antibodies HRP-RBD complexes remain in the supernatant and are removed during washing. Then a TMB substrate solution is added to each well. The enzyme-substrate reaction is terminated by the addition of stop solution and the color change is measured spectrophotometrically at a wavelength of 450 nm ± 2 nm. Compared with the inhibition ratio to judge whether SARS-CoV-2 Neutralization Antibody exists in the tested samples or not.
Assay Procedures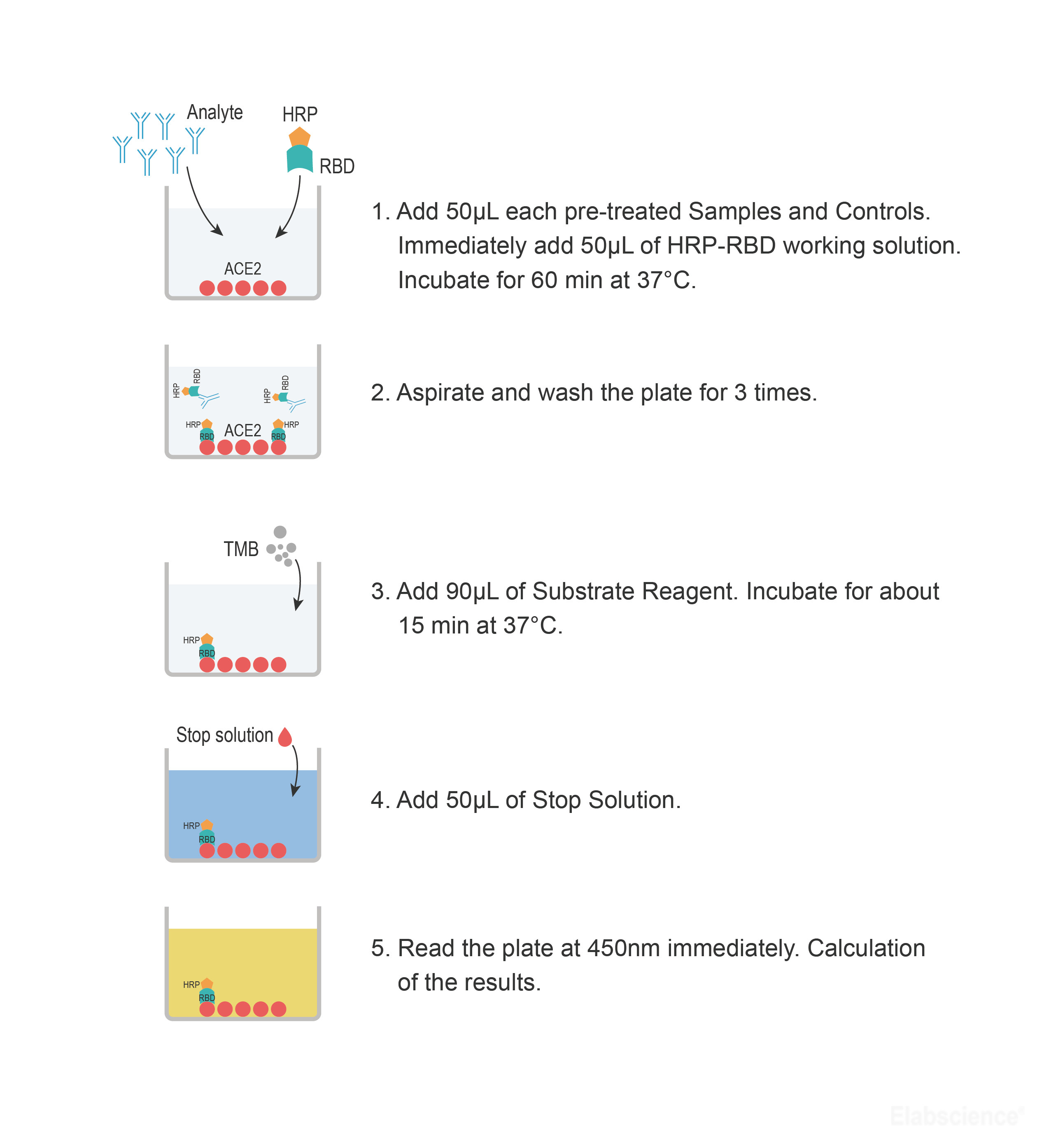 Citations

Reviews/Q&A
J***nSubmitted [ Feb 09 2023 ]
Asked: I want to analyze neutralizing antibodies in mouse blood using this kit. In my opinion, even if it is not a human antibody, it is possible to analyze antibodies of other species against RBD using this kit. Can I use this kit to analyze for mouse serum?
adminSubmitted [ Feb 09 2023 ]
Answered: In theory, this kit is capable of detecting neutralizing antibodies in the serum/plasma of mice and other species. Considering we have not validated positive blood samples from mice, it is recommended that preliminary tests be performed first.
Show All Show Less
Apply for Free Shipping 24T ELISA Kit
My Cart
Product Name
Size & Qty
Price