×
Protein Carbonyl Colorimetric Assay Kit (Tissue And Serum Samples)
Cat.No.:E-BC-K117-M

Detection instrument: Microplate reader(370 nm)
Detection principle
The content of protein carbonyl increased after oxidation, and the carbonyl group reacted with 2, 4-dinitrophenylhydrazine to form a reddish brown precipitate. The absorbance can be measured at 370 nm after the precipitation is dissolved. The carbonyl content can be calculated indirectly.

Performance characteristics
| | |
| --- | --- |
| Sample type | serum,plasma,hydrothorax,cell culture supernatant,tissue |
| Detection method | Colorimetric method |
| Assay type | Quantitative |
| Assay time | 140 min |
| Precision | Average inter-assay CV: 8.5%Average intra-assay CV: 5.2% |
| Other instruments required | Vortex mixer, Micropipettor, Water bath, Incubator, Centrifuge |
| Other reagents required | Absolute ethanol, Ethyl acetate |
| Storage | 2-8℃ |
| Valid period | 6 months |
Images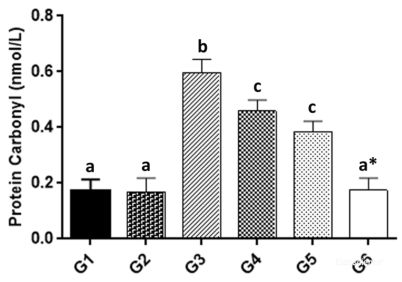 The level of carbonyl was significantly increased (P<0.05) in DMH treated groups (G3) comparing to control group (G1). Quercetin administration has inhibitory effects on protein carbonyl level in different phase (G4-G6).
S G Darband et al found that quercetin attenuated oxidative DNA damage in rats with DMH induced colon carcinogenesis, changes of markers of protein oxidation can be obtained. Protein carbonyl level of rat colon tissue was determined using protein carbonyl colorimetric assay kit (E-BC-K117-M).
Citations

Reviews/Q&A
D********dSubmitted [ Aug 05 2022 ]
Asked: I found that there are E-BC-K117-M and E-BC-K117-S for protein carbonyl, what\'s the relationship or difference between them?
adminSubmitted [ Aug 05 2022 ]
Answered: These two kits are mainly the difference between the detection instruments. One is the detection of the microplate reader, and the other is the detection of the spectrophotometer.You can check our manuals.
Show All Show Less
Apply for FREE TRIAL Fluorometric Assay kit
My Cart
Product Name
Size & Qty
Price