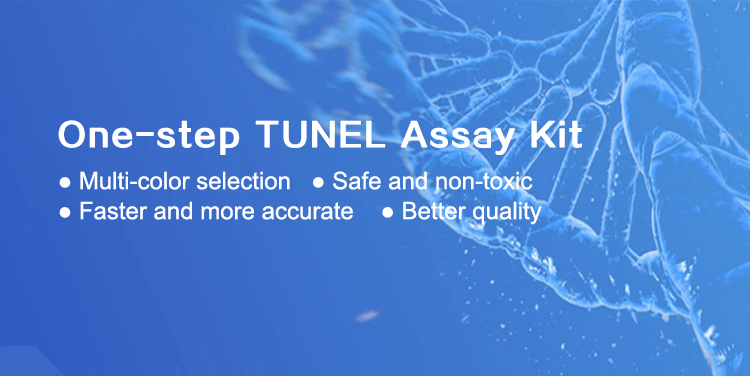 One-step TUNEL Assay Kit
Elabscience® improves the process of the entire line of products, and offers you a highly sensitive, fast and simple apoptosis detection kit (TUNEL) at a lower price and a better product experience, which can better assist in apoptosis research on diseases related to cell function and research and development of related drugs.
One-step TUNEL assay kit ( FITC, AF488, AF594, EV450, AF647, AF555) is suitable for in situ apoptosis detection of tissue samples (Paraffin embedding, frozen section) and cells (Cell smears, cell climbing smears) in situ apoptotic detection. The test results can be directly observed through a fluorescence microscope.
Elabscience® One-step TUNEL Assay Products
Applications
Functional study of cell apoptosis

The effect of gene up-regulation or down-regulation on cell function
The effect of drugs on the function of cancer cells
The effect of viruses on cell function

Research on apoptosis-related diseases

Insufficient apoptosis: tumors, autoimmune diseases, viral infections
Excessive apoptosis: cardiovascular disease, blood system disease, severe hepatitis, degenerative neurological disease
Why Choose Elabscience® One-step TUNEL Assay Kits?
Safety: The new buffer does not contain cacodylate, which is safe and non-toxic.

Multi-color:There are red, green, blue and other colors to choose from, and can be customized for more needs

Efficiency:Only one step of dyeing reaction, fast and simple

Accuracy: High sensitivity, low background, good specificity, strong signal

Stability: Strict quality control to ensure repeatability between batches

High quality: The quality is equivalent to TUNEL products of other commercial available brands
Example Data Analysis
Detection Principle
When cells undergo apoptosis, specific DNA endonucleases will be activated, cutting the genomic DNA between the nucleosomes. After extraction and loading for electrophoresis, a DNA ladder of 180-200 bp can be found in such DNA samples, which is a specific event during cell apoptosis. The exposed 3'-OH of the broken DNA can be catalyzed by Terminal Deoxynucleotidyl Transferase (TdT) with labeled dUTP, which can be detected with fluorescence microscopy or flow cytometry.。
VS
Other Cell Related Assay Kits