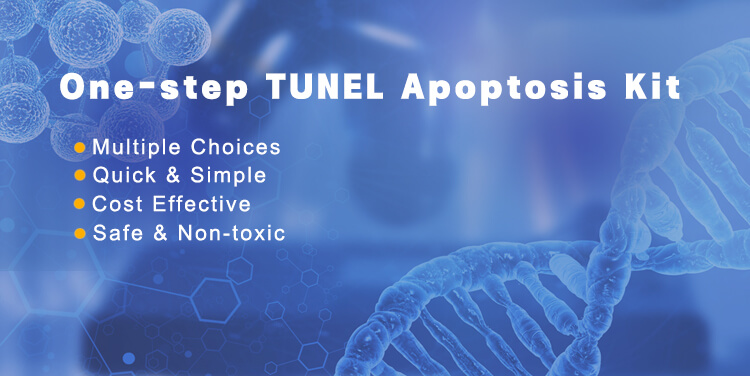 One-step TUNEL Assay Kit
Elabscience® offers you a highly sensitive, fast and simple TUNEL apoptosis assay kit with one-step dewaxing solution, which can better assist in apoptosis research on diseases related to cell function and R&D of related drugs. TUNEL apoptosis assay kits detect the DNA breaks formed when DNA fragmentation occurs in the last phase of apoptosis, monitor and quantify apoptosis.
One-step TUNEL assay kit ( FITC, AF488, AF594, AF647, AF555) is suitable for in situ apoptosis detection of tissue samples (Paraffin embedding, frozen section) and cells (Cell smears, cell climbing smears) in situ apoptotic detection. The test results can be directly observed through a fluorescence microscope.
Sensitive Quantitative Detection of Early Apoptosis,Click Here To Check Annexin V Apoptosis Detection Kits.
Activated Caspase can Induce Apoptosis, Caspase Expressed in The Early and Late Stages of Apoptos is,Click Here to Check Caspase Assay Kits.
Advantages
One step dewaxing saves about 2h, safe, non-toxic and environment friendly.
Company R

Elabscience

Traditional dewaxing methods
Green fluorescence
(Illumination value: 10, exposure time: 100 ms)

Traditional dewaxing method

One-step dewaxing method

Comparison of traditional and one-step dewaxing
Green fluorescence
(Illumination value: 10, exposure time: 30 ms)
Detection Principle
When cells undergo apoptosis, specific DNA endonucleases will be activated, cutting the genomic DNA between the nucleosomes. After extraction and loading for electrophoresis, a DNA ladder of 180-200 bp can be found in such DNA samples, which is a specific event during cell apoptosis. The exposed 3'-OH of the broken DNA can be catalyzed by Terminal Deoxynucleotidyl Transferase (TdT) with labeled dUTP, which can be detected with fluorescence microscopy or flow cytometry.
Other Cell Related Assay Kits